HISTORICAL NOTES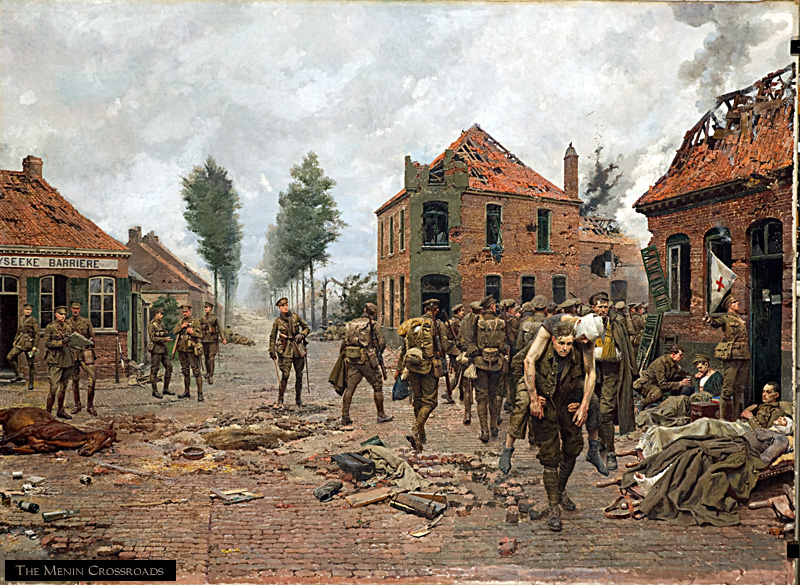 The Menin Crossroads, painted by Fortunino Matania, depicts the late afternoon of 22nd October 1914 when there was a moment of brief respite for the beleaguered men of the 2nd Battalion the Yorkshire Regiment (better known as The Green Howards).

Many of the officers and soldiers in the painting are named, including Private Henry Tandey who carries a wounded soldier in the foreground of the picture. In a short spell of five weeks, between 25th August and 28th September 1918, Private Tandey was awarded the three highest awards for gallantry in the face of the enemy and, because he refused to take promotion, became the most highly decorated private soldier in the Great War. By November 1918 he had been warded the Victoria Cross, the Distinguished Conduct Medal, the Military Medal and had been mentioned in despatches five times.

The painting was commissioned by the Green Howards Regiment to the Italian artist in 1923, showing a soldier purported to be Tandey carrying a wounded man at the Kruiseke Crossroads in 1918, northwest of Menin. The painting was made from a sketch, provided to Matania, by the regiment, based on an actual event at that crossroads. A building shown behind Tandey in the painting belonged to the Van Den Broucke family, who were presented with a copy of the painting by the Green Howard's Regiment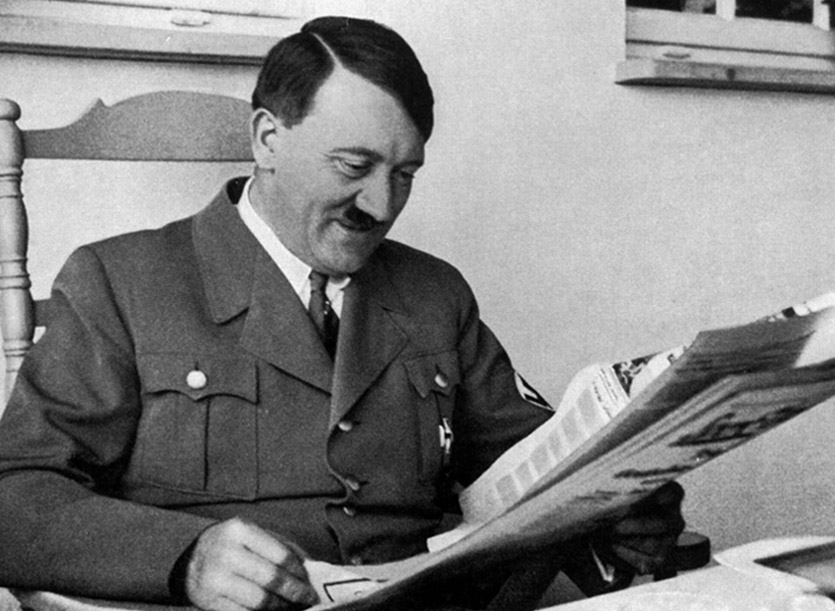 Hitler apparently saw a newspaper report about Tandey being awarded the VC (in October 1918, whilst serving with the 5th Battalion Duke of Wellington's Regiment), recognized him, and kept the clipping. In 1937, Hitler was made aware of a particular Fortunino Matania painting by Dr Otto Schwend, a member of his staff.

Schwend had been a medical officer during the First Battle of Ypres in 1914. He had been sent a copy of the painting by a Lieutenant Colonel Earle in 1936. Earle had been treated by Schwend in a medical post at the Menin Crossroads and they remained in touch after the war. Schwend obtained a large photo of the painting. Captain Weidemann, Hitler's adjutant, wrote the following response: "I beg to acknowledge your friendly gift which has been sent to Berlin through the good offices of Dr. Schwend. The Fuhrer is naturally very interested in things connected with his own war experiences, and he was obviously moved when he saw the picture. He has directed me to send you his best thanks for your friendly gift which is so rich in memories.

Apparently Hitler identified the soldier carrying the wounded man as Tandey from the photo of him in the newspaper clipping he had obtained in 1918. In 1938, when Neville Chamberlain visited Hitler at his alpine retreat, the Berghof, for the discussions that led to the Munich Agreement, he noticed the painting and asked about it. Hitler replied: "That man came so near to killing me that I thought I should never see Germany again; Providence saved me from such devilishly accurate fire as those English boys were aiming at us..According to the story, Hitler asked Chamberlain to convey his best wishes and gratitude to Tandey.